Building Blocks: PlusPlus Information Architecture
Table of Contents:
The Building Blocks
Information Architecture

Events Overview

Event Types
Events: Roles & Actions

Snippets Overview

Tracks
Tracks & Event Types
Tracks: Roles & Actions

Sessions & Programs Overview

Coaching vs Mentorship
Coaching
Mentorship
Sessions: Roles & Actions
---
The Building Blocks
PlusPlus has three main entities: Events, Snippets, and Sessions.
Each one handles a particular learning need that people have in large companies. They can be organized in larger containers and connected through the interface.
* To turn on and off each of these entities in your setup please contact customer support.

---
Information Architecture
Each of these sections has an interface focused on regular users, where they can see and engage with the events, track, and 1-1 sessions, as well as an area for power-users, who have the ability to create and manage all of our building blocks, perform bulk actions and see data insights on the company's learning experiences.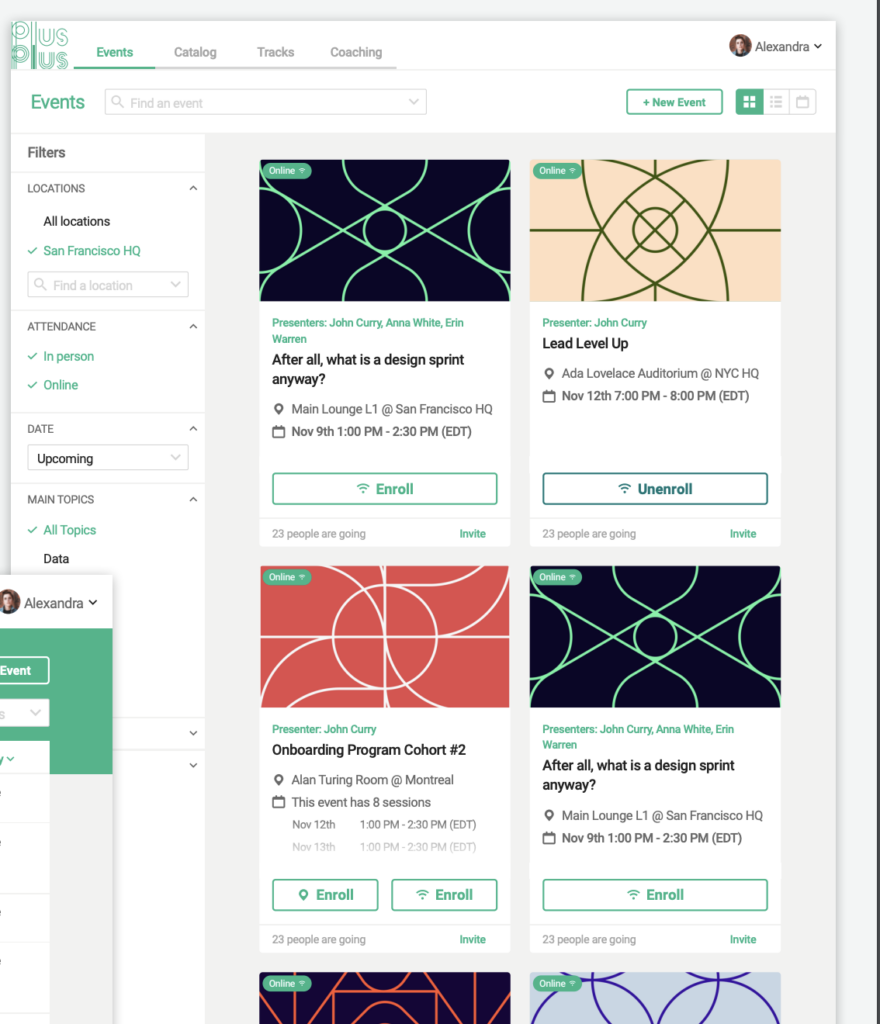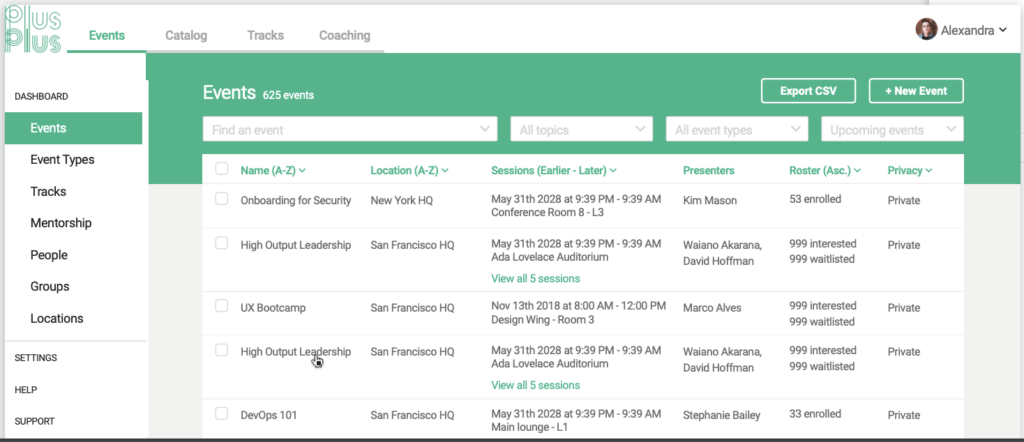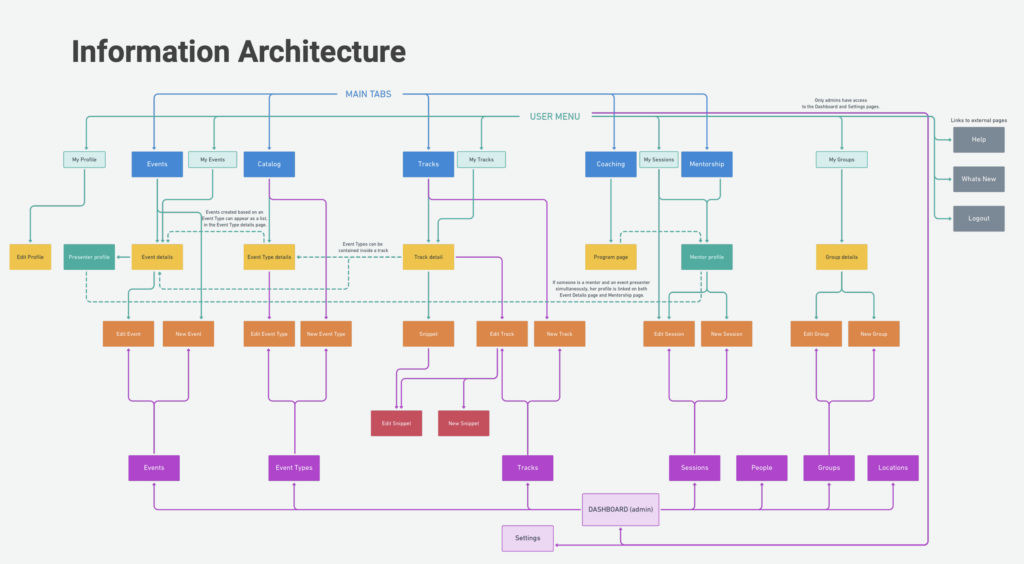 ---
Events
Events are gatherings of multiple people in a defined time and location.
Events can be classes on a course, workshops, team outings, happy hours, or whatever the people involved want them to be.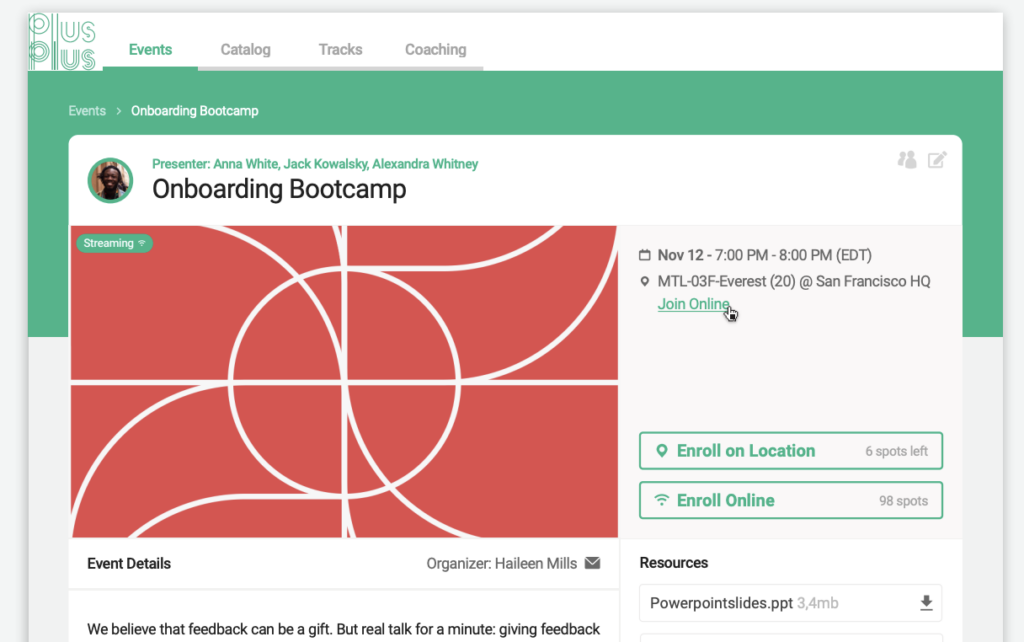 Event attributes:
(Bold = required information)
Organizer
Co-organizer(s)
Host or Presenter(s)
Topic(s)
Location – a specific company office
Room or online link
Time and Date – one, or multiple if the event occurs over multiple sessions
Attendance method – online, in person or both
Capacity – number of people who can attend
Roster – the list of people enrolled
Cover image
Description
Additional resources – links, embedded google docs
Event formats:
One-time
Recurring
Multiple timeslots
Event Types
Event managers can build events from scratch, or based on an Event Type.
An event type works as both a template for the creation of an event (with preset attributes) and a hub for all upcoming events based on it. Users can browse through event types in the Catalog tab.

If an event manager edits the attributes in an event type, all existing events based on it are updated.
Events: Roles & Actions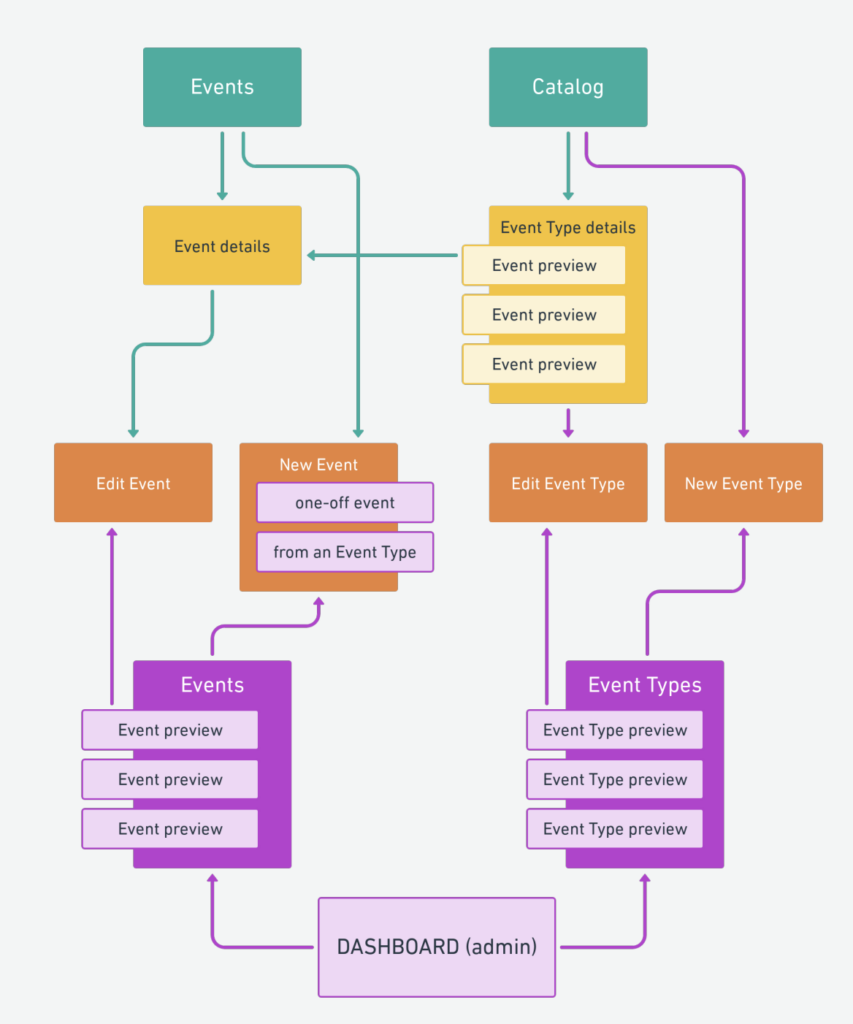 ---
Snippets
Snippets are our most versatile building block, and we designed it to help Learning and Talent Managers organize pieces of knowledge specific to your company.
A snippet can contain
Text
Images
Event Types
Embedded content:

Video from YouTube
Google Slides
Google Docs
Google Sheets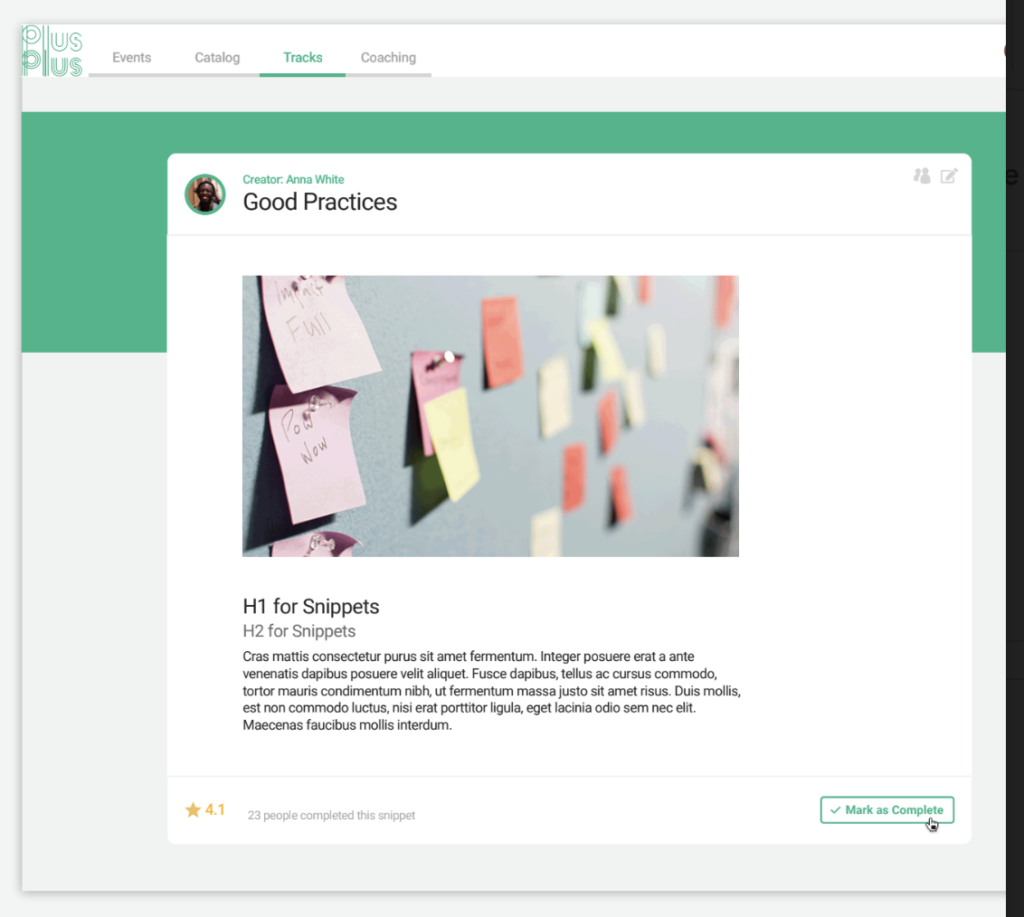 Tracks
A series of snippets can be bundled together in a Track, and then assigned to people in your company. Tracks are very useful for onboarding new hires and keeping track of their progress.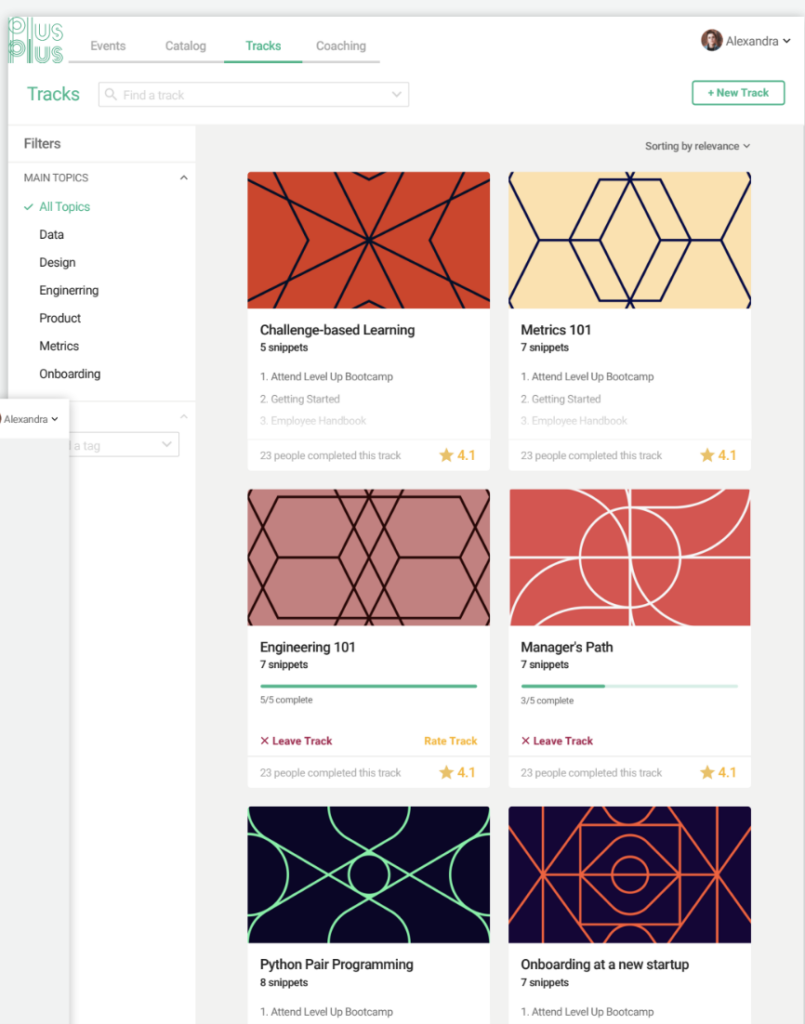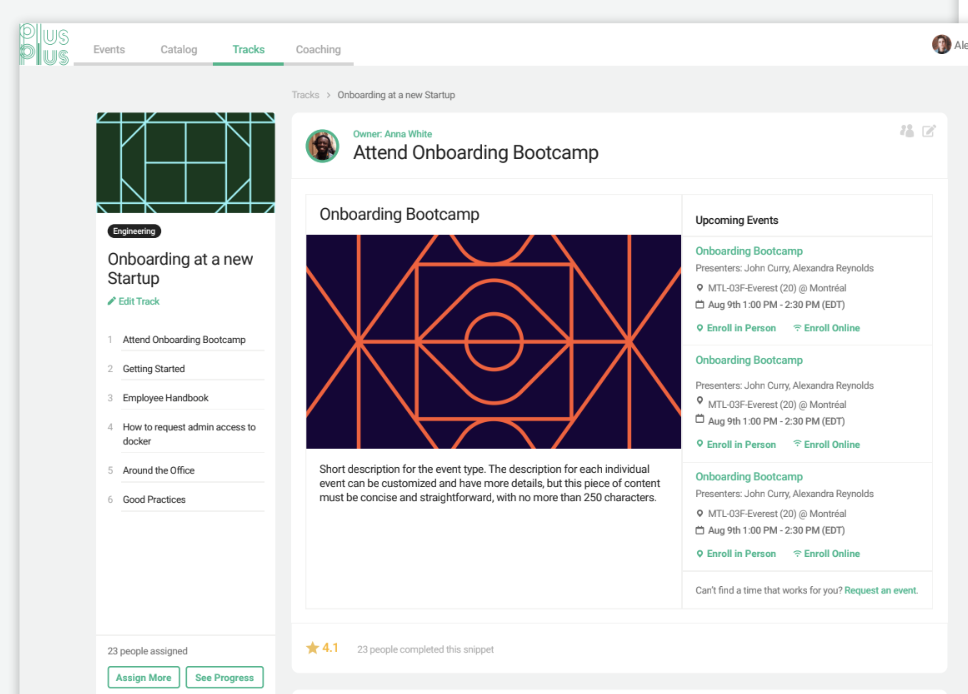 Tracks & Event Types
Event types can be added to a snippet just like other kinds of embeddable content.
Once an event type snippet is added to a track, all the upcoming events created from it will appear in that track.
Participating in an event can be part of an onboarding experience or a technical course. People can track their own progress by completing the snippet, and also give it a public rating (1 to 5 stars).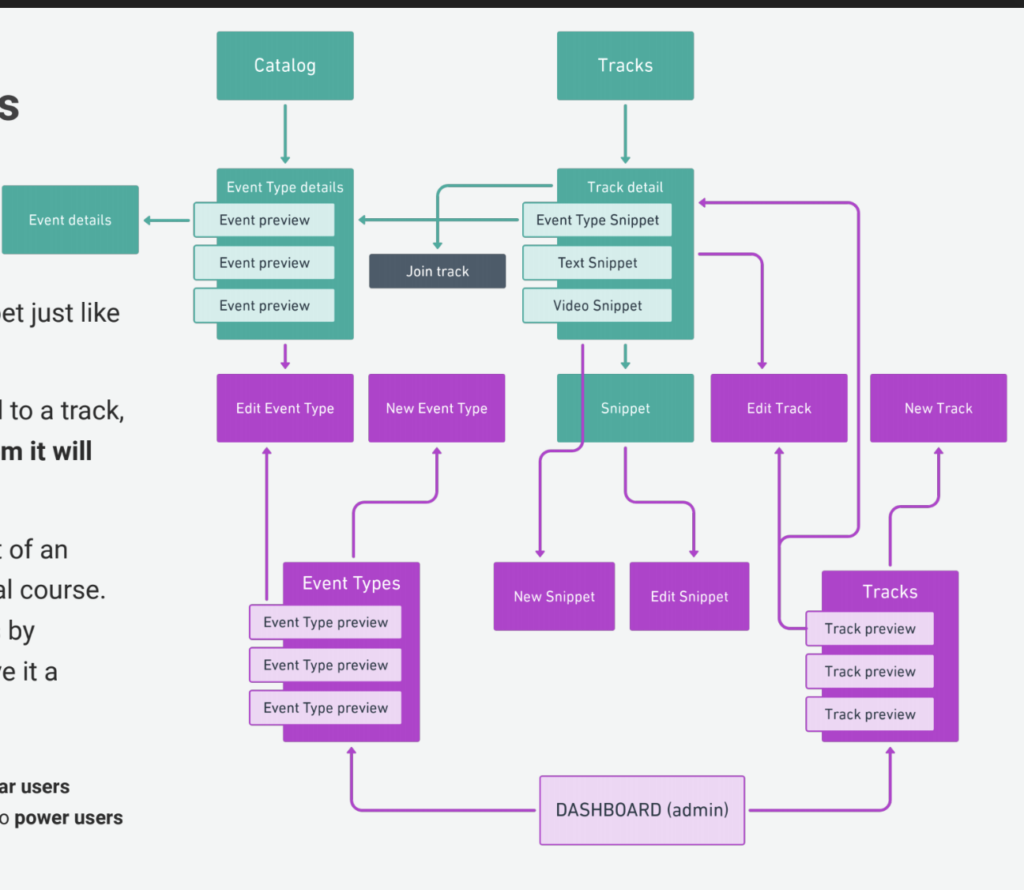 Tracks: Roles & Actions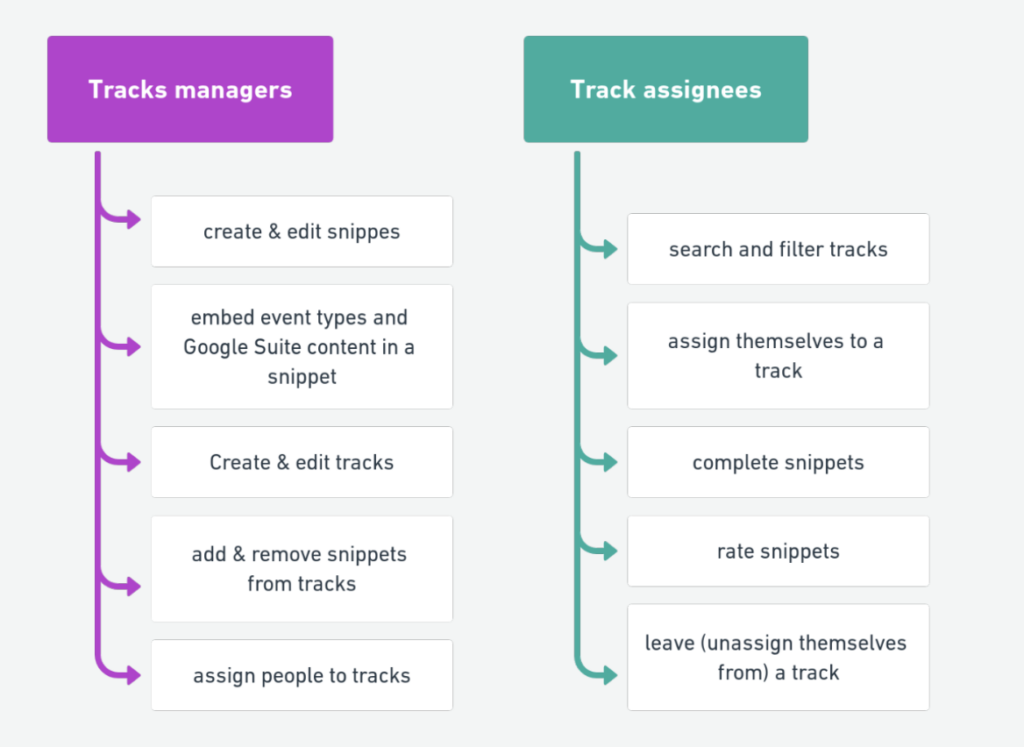 ---
Sessions
Sessions are one-on-one appointments, designed to stimulate relationships between new employees (mentees/coachees) and senior professionals (mentors/coaches).
Session attributes
Mentor
Date and time
Location
Attendance method – online or in person
Availability – public or private for a mentee or group
Program
Mentee (only after the session is booked)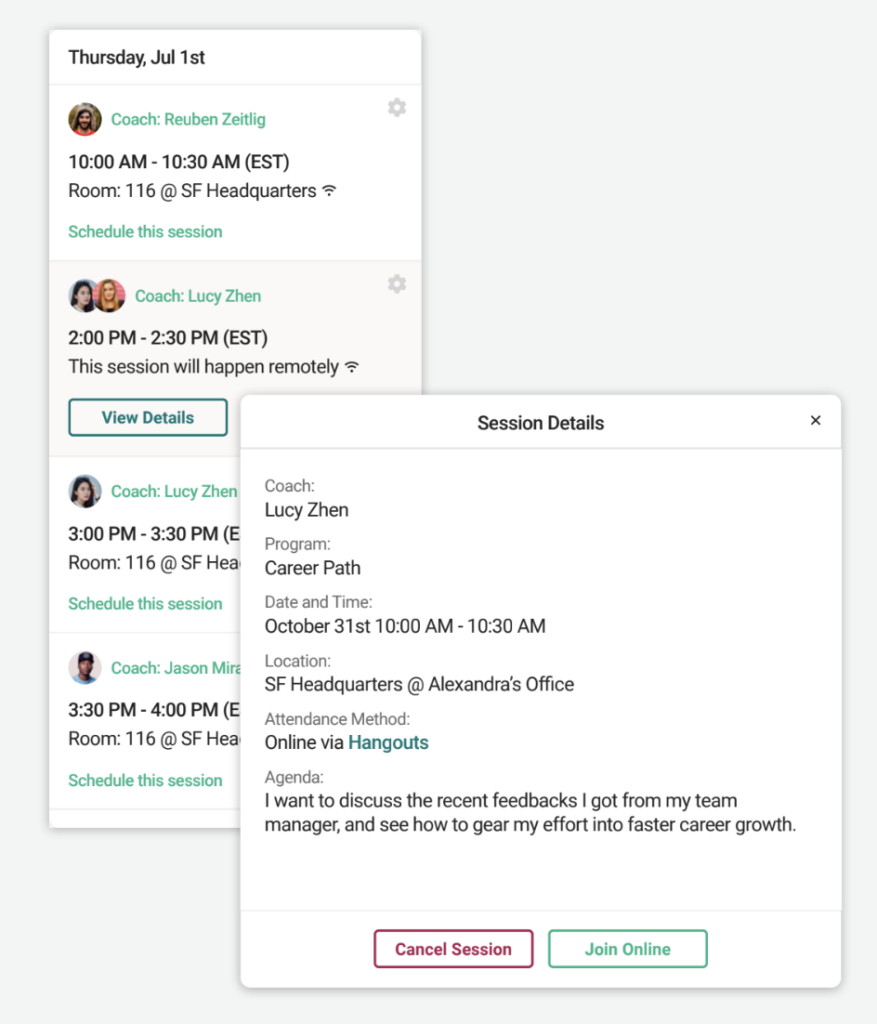 Coaching vs Mentorship
Different companies handle 1-1 talent development in different ways. PlusPlus is built in a way that makes it possible for the experience to be centered around people (Mentorship), or around development paths or programs (Coaching, Office Hours).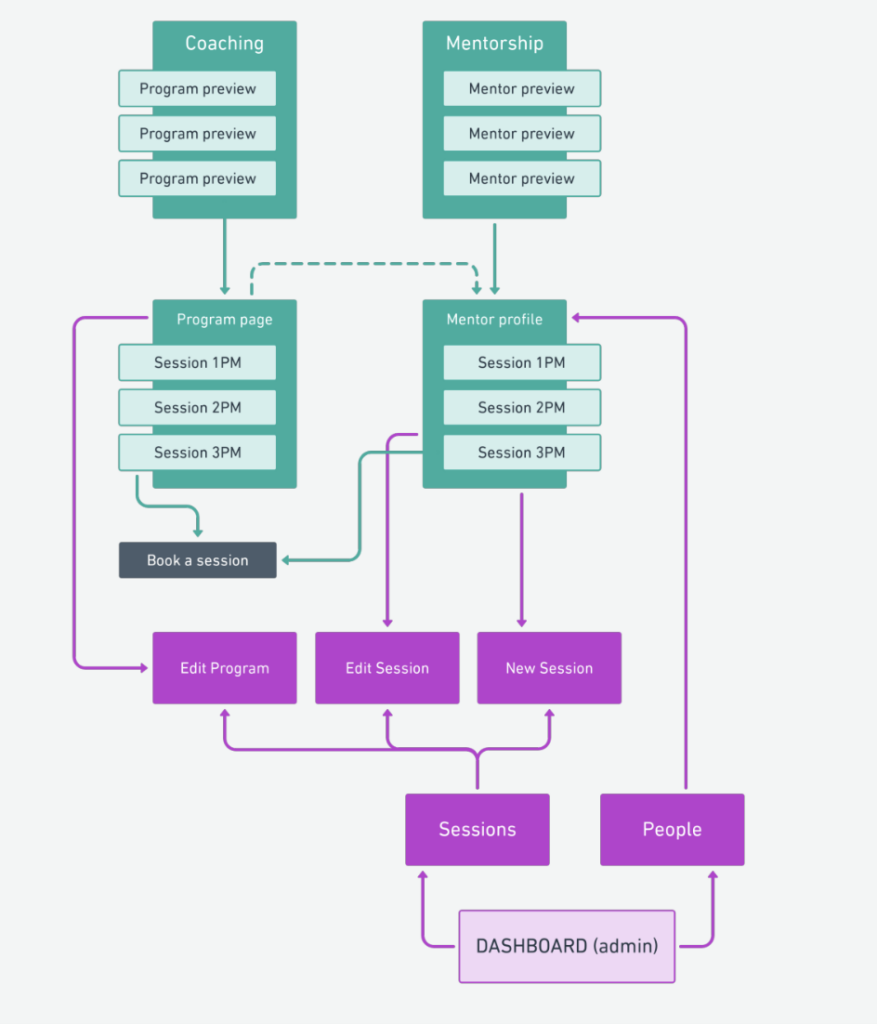 Coaching
When used for Coaching or Office Hours, sessions are contained in Programs (e.g Coaching for Managers, Tech Leadership, etc).
A program can have sessions from more than one coach, and a coach can provide sessions for more than one program.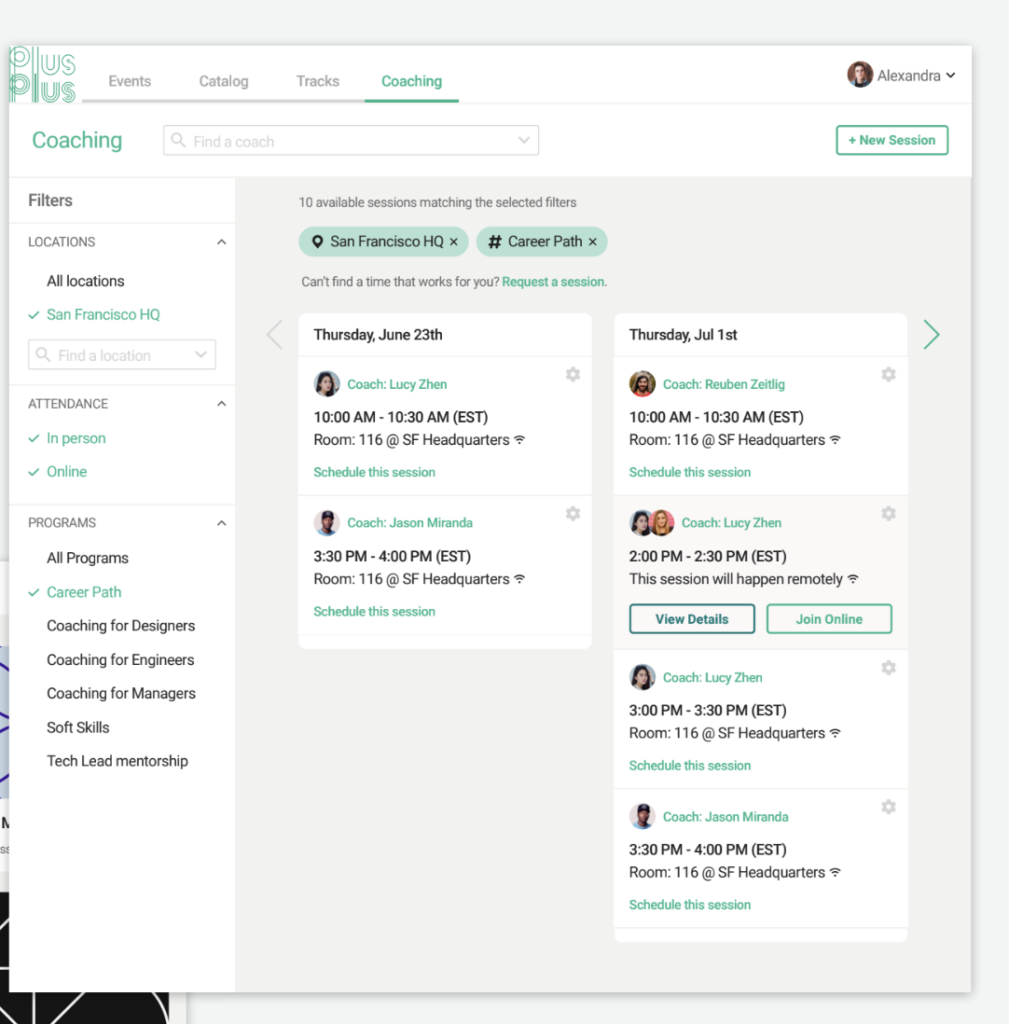 Mentorship
On Mentorship module, mentors are front and center.
Mentees can filter and search for mentors with available time slots and book sessions directly in PlusPlus. Once a session is booked, it's synced on both the Mentor and Mentee's Google Calendar.
Mentees can filter and search for mentors with available time slots and book sessions directly in PlusPlus. Once a session is booked, it's synced on both the Mentor and Mentee's Google Calendar.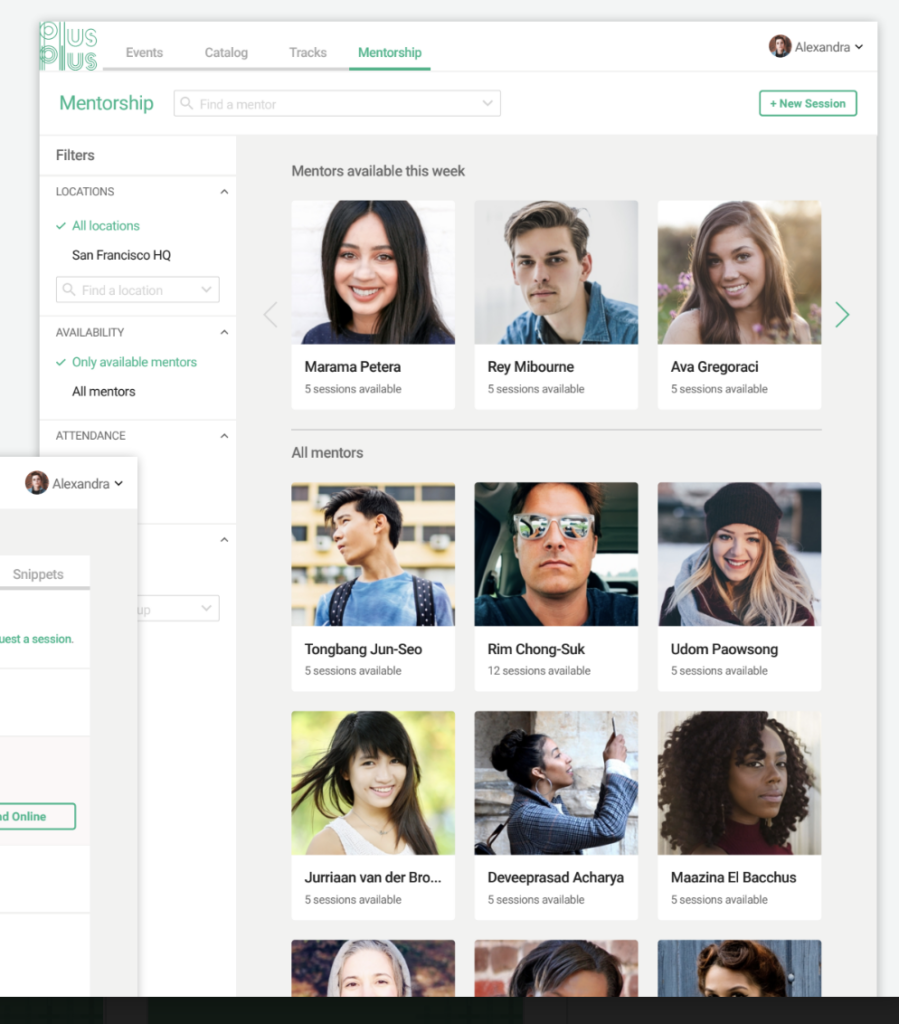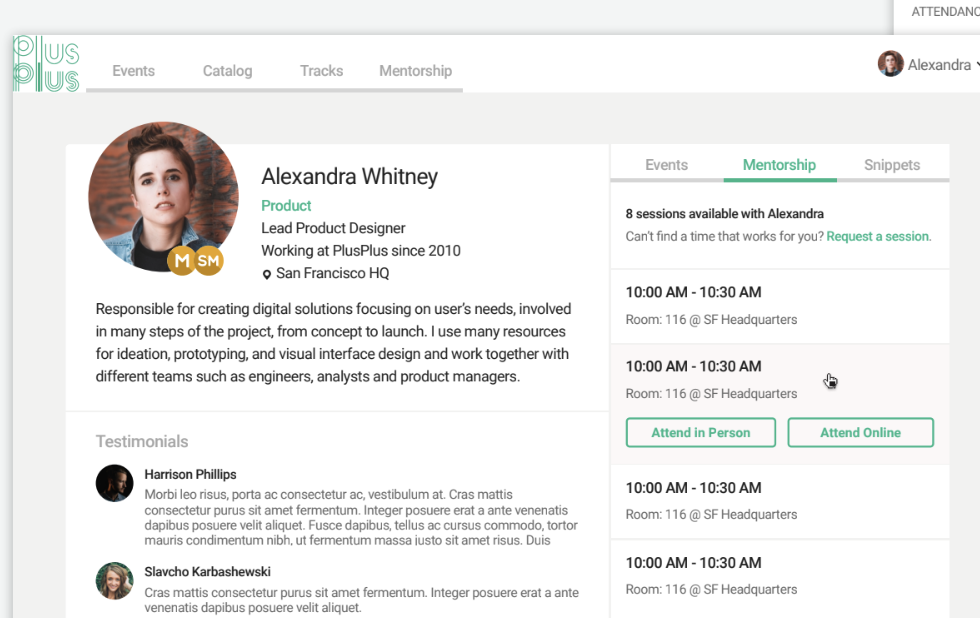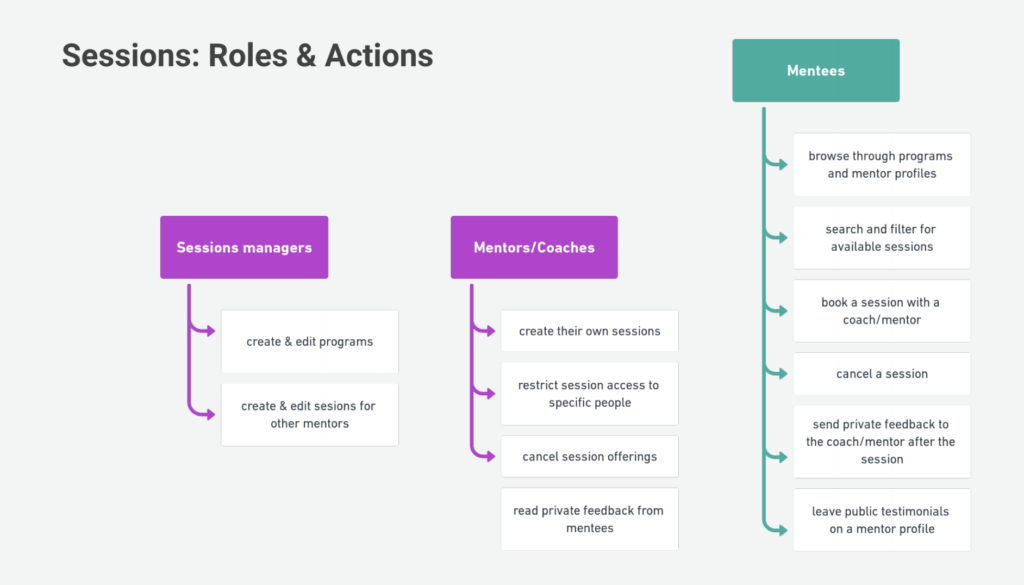 ---
Category: Docs, Product Author: whelpley@plusplus.co Date: August 20, 2019 10:01 pm