PlusPlus's Coaching module is a feature that allows users to create coaching Programs and add coaching Sessions to these programs. These sessions can be provided by coaches themselves, by using the "Add Coaching Session" link in the dropdown menu. All these sessions belong to their programs and have their settings accordingly. Users can then take a look at the available coaching sessions and add them to their schedules, providing the coach with an agenda of what should be discussed in that timeslot.
Creating a Program
You can create a program by accessing the "Add Program" link in the user dropdown menu.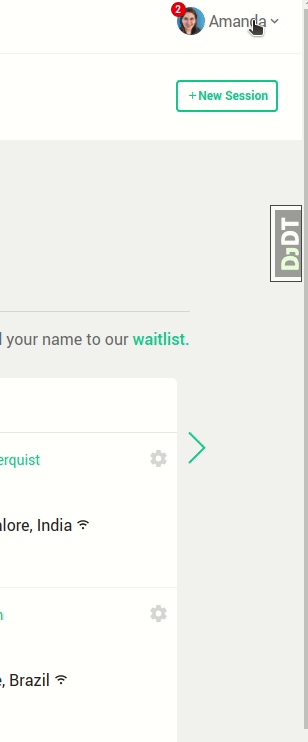 In the "Create a Program" page, you will need to fill details such as the title for that Program, the manager for that Program, both obligatory, and optionals such as a description, a cover image and even topics through which the coaching sessions will be filterable later!
You will also find the "Access" tab in this page, which controls the visibility of these Programs.
By marking the program as private, only people with access to the direct link will be able to see the Program's sessions. The Program won't show up in the results for the Program's list unless the user accessing that page is an admin.
By selecting groups that this Program should be restricted to, only users who are in these groups will be able to see the Program listed in the Programs' page and their sessions.
If you have Google Calendar active, you'll also be able to choose whether a Program's sessions should be visible to everyone on Calendar or not. By default, Program sessions are private on Google Calendar, but you can make them public by unselecting the "Make this program's sessions private on Google Calendar" option.
Please note that from that point on, all synced sessions, old or new, will become visible on Google Calendar to people who aren't involved in them.
Agendas will only appear in private Google Calendar sessions, but all sessions will have a link to the agenda, which is restricted to the coach and attendee.
Editing and deleting a Program

If you have the permissions, you can edit or delete a Program by heading to the Programs list and clicking on the gear icon > "Edit Program".
You can edit basically every aspect that's available in the creation page. You'll also have access to deleting that Program under the tab "Delete Program".
Creating a Session
Coaches can create sessions by going over to the user menu, and clicking on "Add Coaching Session". They can also be created on user menu > "Dashboard" > "Program Sessions" > "Program Session", or user menu > "My Sessions" > "New Coaching Session".
Coaching sessions are always required to have a Program, a mentor, a location, a timeslot and an attendance method. You can also select a mentee if the session is already booked.
Multiple locations
You can also make the session available in multiple locations as long as it's an online session. You can add as many additional locations as you want.
Recurring sessions
You can use the "Recurrence" tab to create recurring sessions. You can set the interval of the creation in days and select how many sessions per month should be created.
Editing and deleting Sessions
Admins can edit sessions by going either to the sessions listing by program page and clicking the gear icon > "Edit Session" or going over to the "Program Sessions" dashboard, hovering over the session's row, clicking on the "…" icon > "Edit".
Coaches can edit their own sessions by going to the sessions listing by program and clicking the gear icon > "Edit Session" or by going into the user menu > "My Sessions" > "Sessions I'm hosting" > gear icon > "Edit Session".
Admins and coaches can edit everything they selected at creation, apart from recurrence. They can also delete the session by heading into the "Delete Session" tab.
Updating the attendee for a session
You can add, remove or update attendees for sessions. If you remove an attendee from a session, by default, the attendee will receive an email informing they have been removed by you from that session. If you're an admin, you can turn this email off over in the user menu > "Settings" > "Notification Templates". Added attendees will also receive emails informing of their new enrollment.