In a Nutshell
As the entire industry is grappling with how best to support employees working from home, many are experimenting with self-paced learning, for the promise of learn-anytime-anywhere at scale. Yet, the Netflix Studios education team found out that to truly operate at scale, they needed to add back a missing ingredient, one that's seemingly the least-scalable — the human touch.
Background on Netflix
Prior to Netflix, John was a TV producer, while Trevor worked on big-budget movies such as Captain America and Ant-Man. Today, they facilitate boots on the ground for everyone making the content for Netflix.
The team supports Netflix Studio: a global network of 1,000s of content creators all over the world. Some are Netflix employees and many external contractors. In terms of scale, Netflix produces over a thousand original titles per year. Creating a single title requires a lot of complexity. To manage this is something that has never been done at this scale before.
To do this, Netflix has developed an ecosystem of internal tools they use to manage this at scale. These proprietary tools require constant onboarding and rollout to the rest of the company. Netflix Studios is truly global so the team has to support employees all over the world.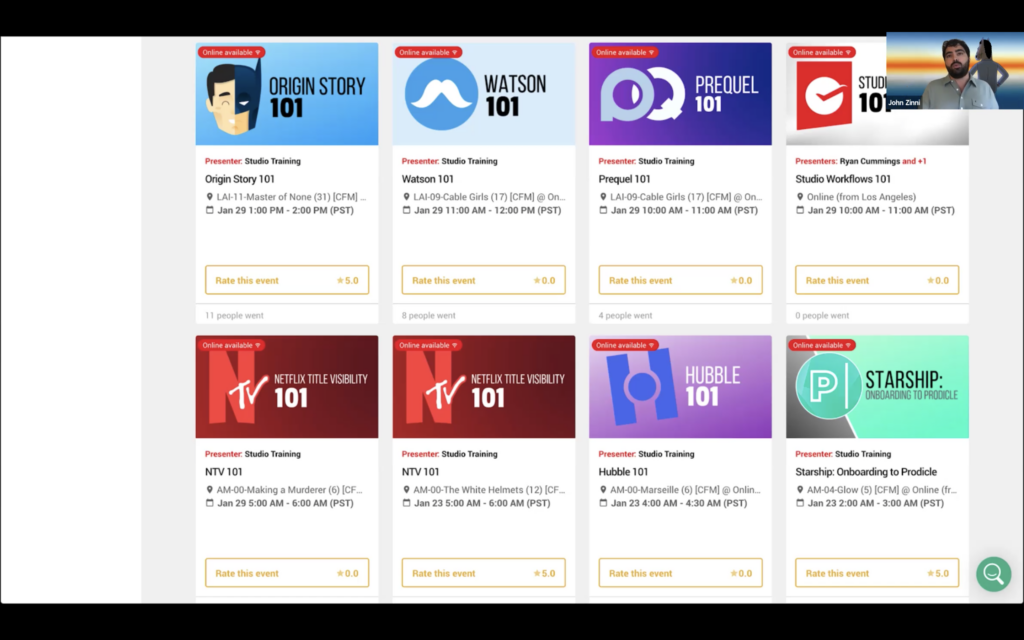 To help with the understanding of how these tools work, Netflix uses PlusPlus to host its internal workshops, classes, office hours, and onboarding tracks.
The Challenges
In 2020, their scope exploded. The team became responsible for all internal tools for Netflix Studio. Their initial solution was to start creating videos, slide decks, help center articles, e-learning courses, and in-app support to offer more rounded self-service learning opportunities. While people were using the new resources, they were starting to receive more and more emails and questions. It was clear the initial shift to self-serve learning was not enough.
"The team was losing its soul. By removing the human element, the team lost that warm blanket experience that the rest of Netflix was expecting and relying on."

John Zinni
Exploration
In a meeting with PlusPlus, the team saw the new Experts feature that PlusPlus developed for coaching, mentorship, and office hours use cases. Trevor and John quickly realized that this new module could also support their need for 1-on-1s.
So, why not just use the calendar to schedule these meetings? "At Netflix, people's calendars are 'bananas'.", says John. Trying to find the time to meet with someone is just that much harder that introduces enough friction for people to avoid scheduling them. By utilizing the PlusPlus platform and having the ability to advertise their availabilities in a single way makes it easy for the team's internal customers to reach out and schedule a meeting. It makes the team more accessible.
Solution
Similar to Ask Me Anything (AMA) sessions on the internet, the team created Ask-Us-Anything program as their version of a 1-on-1. With the help of PlusPlus, they opened up their free slots in their schedules to be bookable by any team member with a question. The pitch was: You got a question, sign up for a 1-on-1 session and get some quality face time with us.
"In concept, this is similar to office hours. It's us setting up aside the time for someone when they need it. Except the difference is it optimizes our time. So, for example, if no one books that 1-on-1, we get that time back to work on other things whereas with the traditional office hours, you're just sitting there waiting for someone to pop in. This new approach fits well with how we do things at Netflix."

John Zinni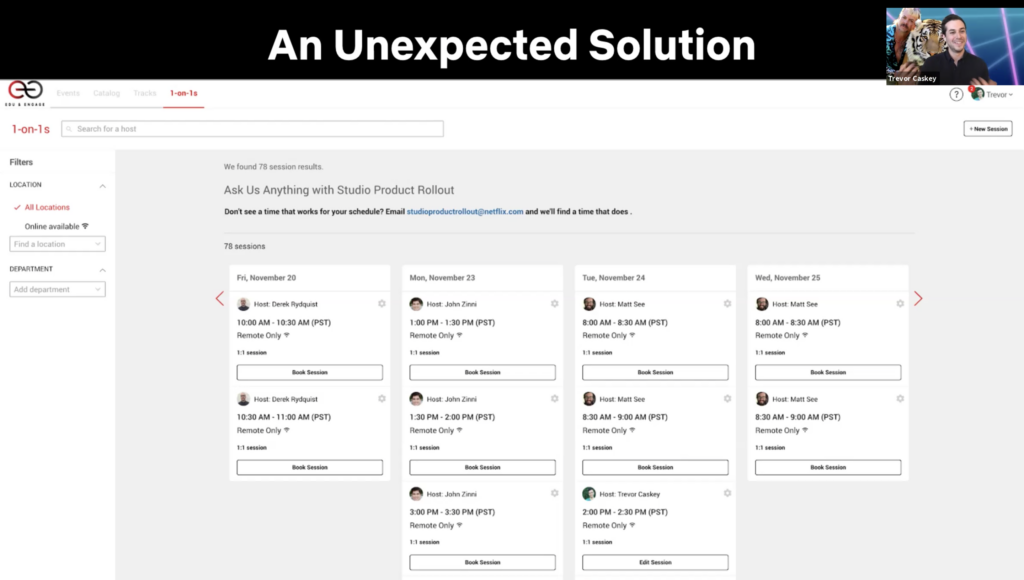 The key is to make it easy to promote these sessions and make it super easy for people to sign up. Whereas workshops and classes are still relevant, they are focused on just one specific topic or a tool. 1-on-1s were much less prescriptive.
"Not everyone is suited for learning by assets, and some need that face-time and the ability to ask questions in real time. (Offering 1-on-1s is really an extension of blended learning… It makes the experience comprehensive."

John Zinni
Why not Slack or email for 1-on-1s? "It's not a truly blended learning experience unless we have (the face-time) element of it. People want this type of interaction," says John.
Takeaways
By being able to offer more face time opportunities as an extended blended learning, they feel the positive impact they have on each team member who participates.
"It is often that people tell us `This is the best meeting I've had the entire year`. It's because they are too often living in this fog that is the ecosystem that is all these connected systems. And this is the meeting where they can ask how one thing is connected to another, how this works here. And truly have someone who can answer these questions for them."

Trevor Caskey
The Future
Blended Learning is the content assets plus the human touch. Assets are good as resources while 1-on-1s help with getting you oriented on what is what and how they connect. It is the warm blanket experience John and Trevor were looking for.
"Other teams at Netflix are now adopting the same approach to learning. PlusPlus as a platform itself is used by the majority of Netflix..it had a very natural welcoming since it made it easy for anyone to create an offering."

Trevor Caskey
"We use Ask-Us-Anything sessions to polish our assets. If someone is coming to our session and asks a question that we don't cover in our assets, it is an immediate feedback loop that we need to address in our assets.", says Trevor.