An enterprise-grade integrated learning system
The most innovative companies run on PlusPlus. That means the platform has been battle-tested. It has been integrated with many of the systems you likely use as well. Explore key features below.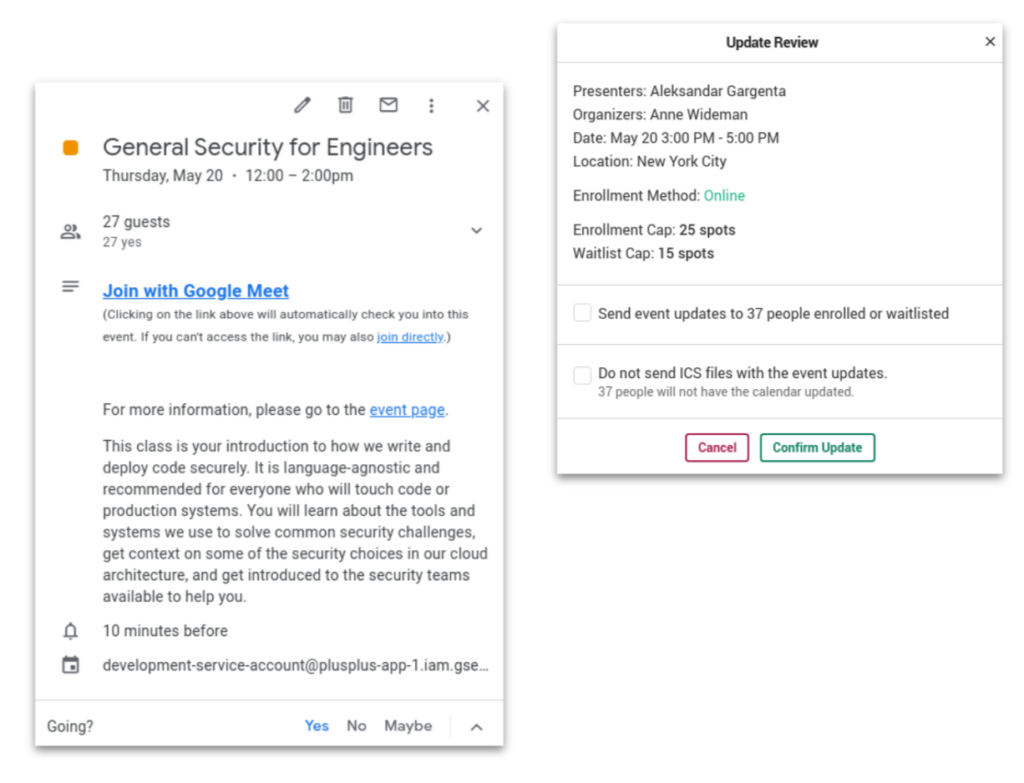 With deep Google Calendar and Microsoft Outlook integration, your events are automatically synchronized with the calendar so people are up to date.
We can book your rooms, schedule VC calls, and even drop enrollments when declined in their calendar.
Whether it's by email or Slack, your people always get the right info at the right time so that they don't miss a beat.
You get a powerful and fully customizable templates with flexible rules to fine-tune when and how your notifications and nudges go out.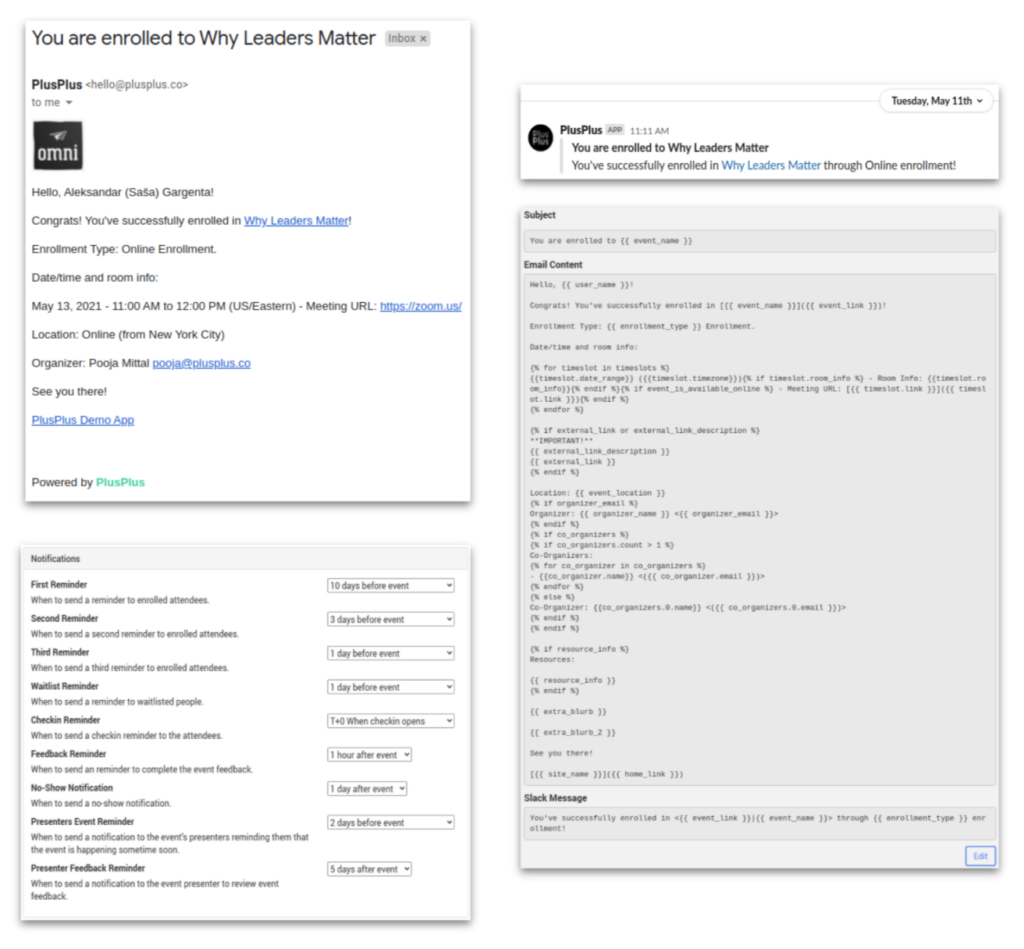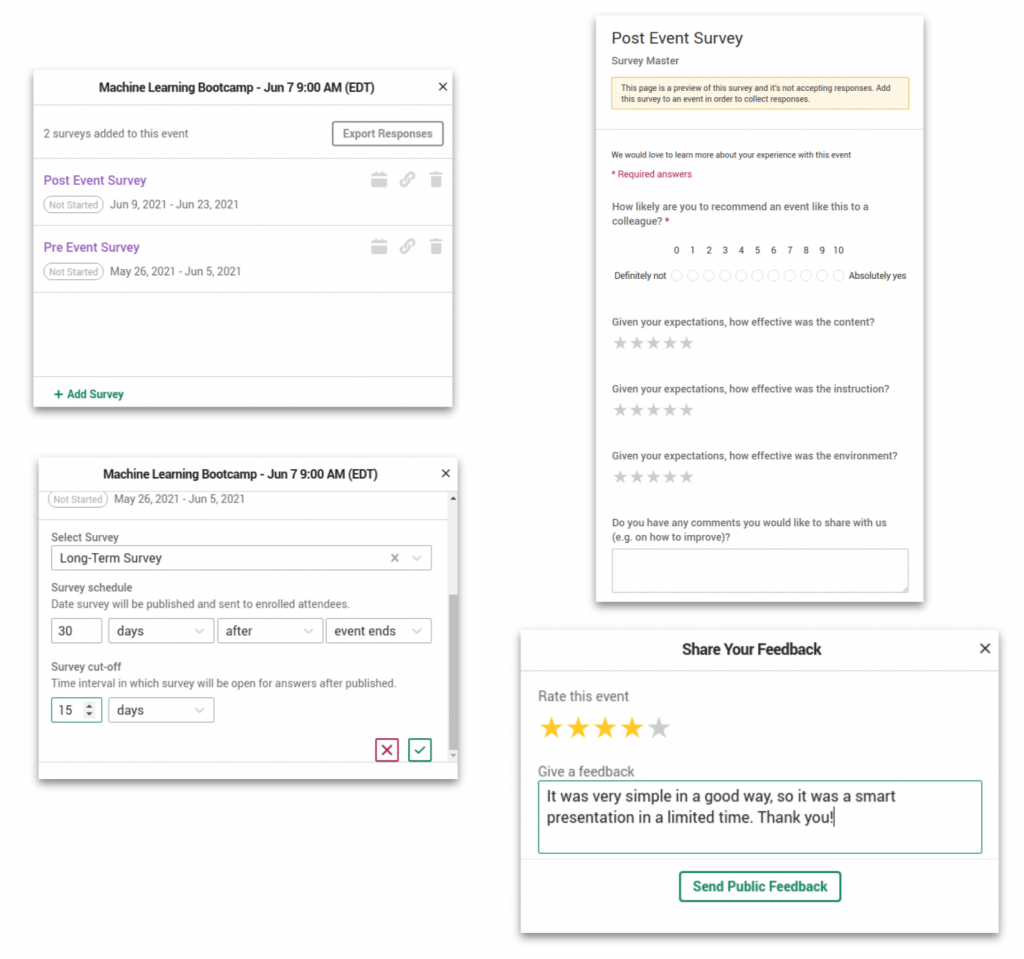 Get a quick pulse check via built-in ratings.
Collect rich data via Custom Surveys with smart scheduling for pre/mid/post assessments.
You can also integrate with other survey providers (e.g. Google Forms)
Assign learning to one person, a group, or an entire company based on automated rules or manually.
With clear due dates and built-in customizable reminders, let our system drive compliance for you.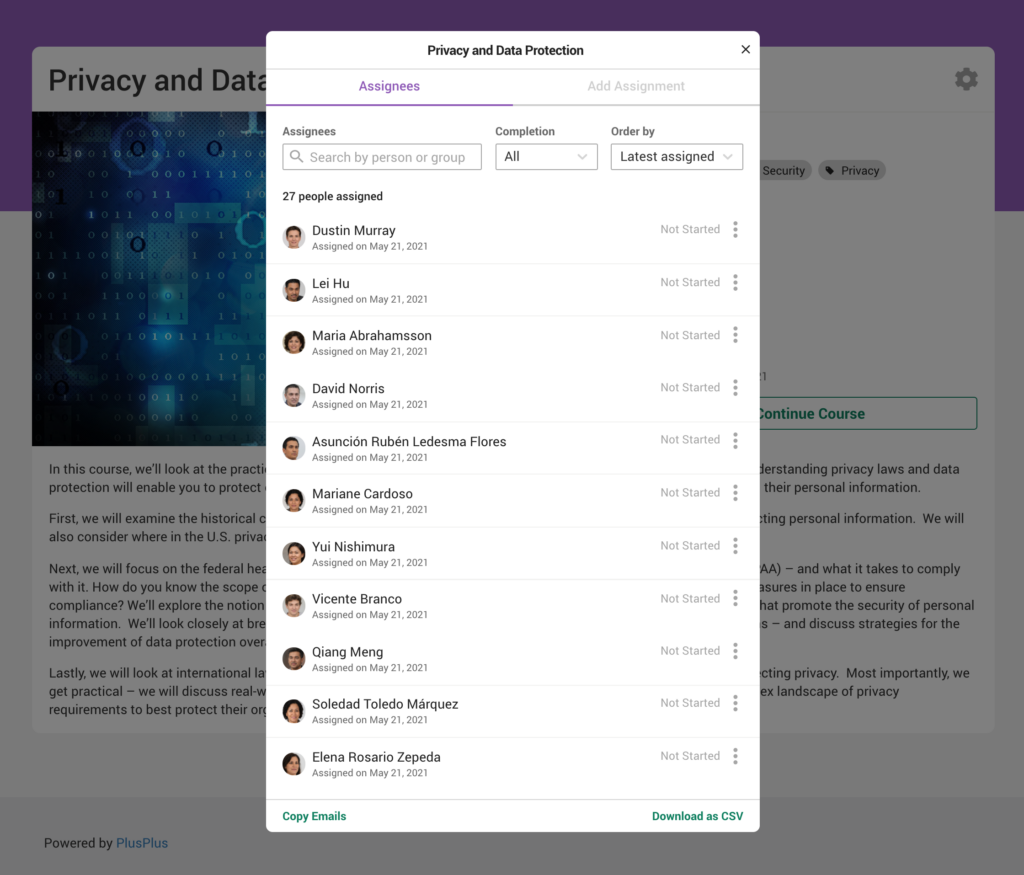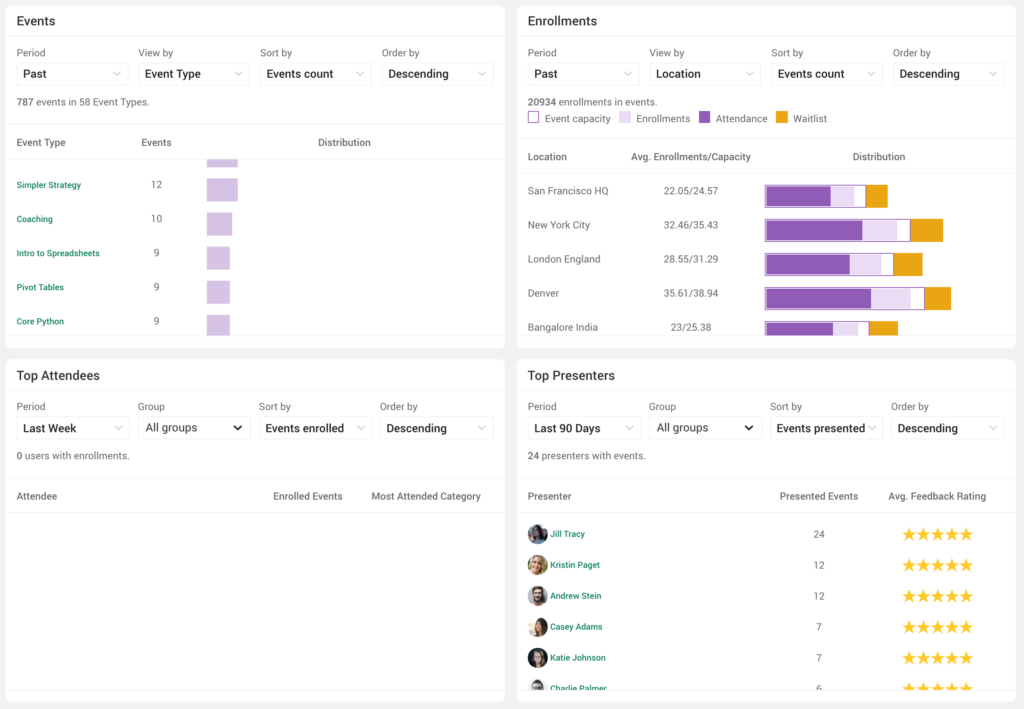 Back-Office & Customization
With powerful dashboards, you have access to all of your data to slice it, dice it, aggregate it, export it, and manage it as you see fit. In bulk or one at a time.
Thanks to cascading settings, you can easily customize how the system behaves and feels globally, for a learning team, or at the level of a content item.
With Flexible Rules, you can bottle up your best practices and put your learning programs on autopilot — freeing you up to launch and scale new ones.
Whether we are auto-enrolling your new hires into your onboarding tracks or auto-assigning your people managers their required training, you have less operational burden to deal with.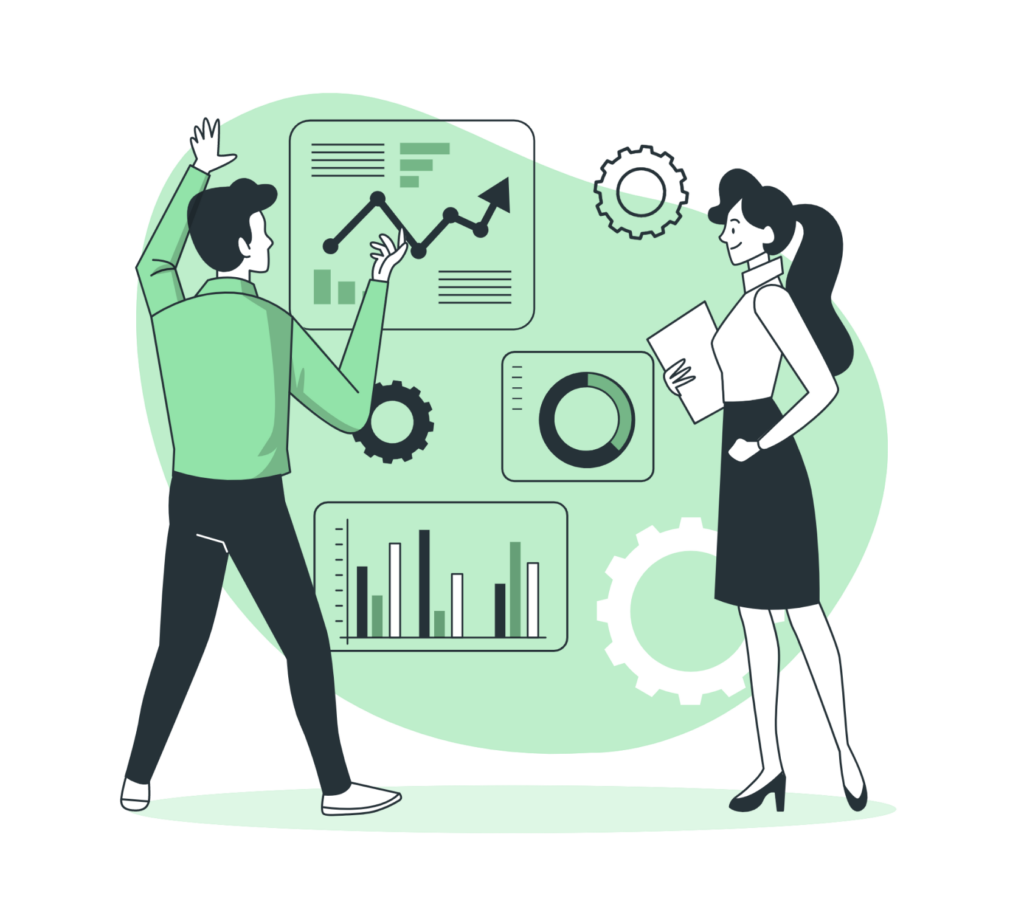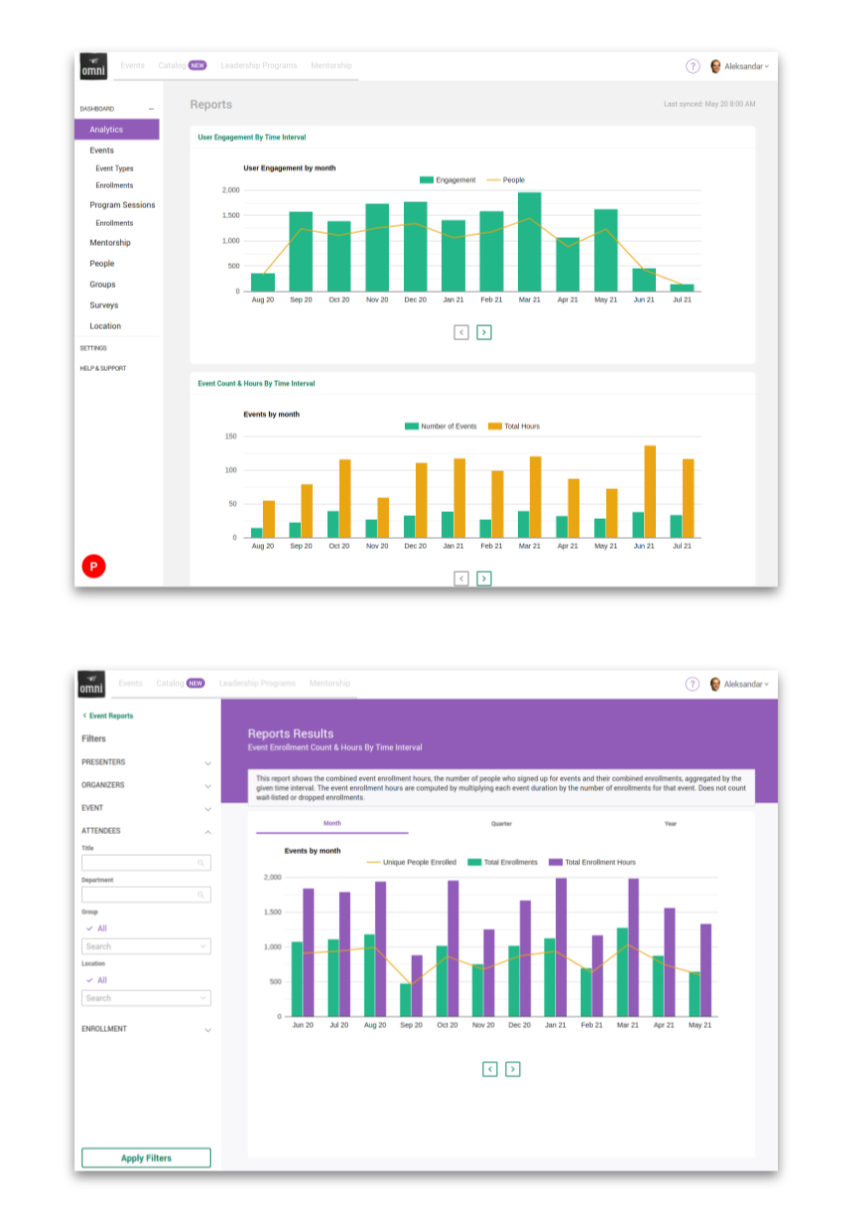 Get detailed reports and visualizations on how people are engaging in your programs.
Because all of your data is in one integrated database, you can apply powerful filters and aggregations to gain deep insights into what works and what can be further improved.
Easily share your live reports with your stakeholders to close the feedback loop and continue to win their funding & support.
PlusPlus Platform is enterprise-grade, always up-to-date, fully managed, and highly available.
We integrate seamlessly into your enterprise ecosystem, from SSO and HRIS to Calendar, Email, Slack, and others system.
Your data is always encrypted and safe because we follow industry-leading data privacy and security practices.